LED Solar Area Light LOT-AL-20-29
This LED Solar Area Light brings environmentally friendly, renewable lighting to commercial
plazas, residential communities, university campuses, city centers, tennis courts, and public
gardens. With no RF interference, no IR/UV Radiation, and no mercury pollution, it's easy to see
why this solar product is so desirable. The aluminum die-cast heat sink manages heat
dissipation, allowing for a lifespan of over 50,000 hours. This product comes with a 3-year
manufacturer warranty and is available in a range of color temperatures from 2700k to 5700k.
It has a wide beam angle of 120°, a frosted cover, a high efficiency imported silicon solar cell,
and an IP rating of 65. Optional features are available, allowing for power & dimming
optimization.
Product Number: LOT-AL-20-29 / LOT-AL-25-29
Lumen Output: 2200-2600 lm/w / 2750-3250 lm/w
Wattage: 20W / 25W
Lumen Efficacy: 110-130
CCT: 2700K / 3000K / 4100K / 5000K / 5700K
Beam Angle: 120°
Solar Cell: High efficiency imported silicon solar cell
IP Rating: 65
Discharge Time: >10-12 hours with 6-7 hours charge time in bright conditions
Warranty: 3-Year Manufacturer Warranty
Certification: CE, RoHS, ISO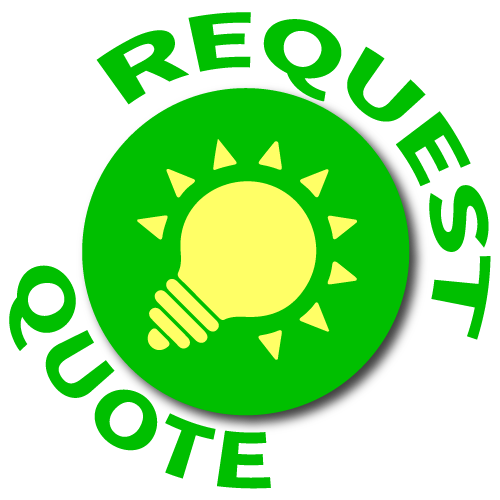 LED Solar Lighting Services in Florida
Do you want to take your energy savings to the next level? Lighting of tomorrow offers solar lighting services in Florida at affordable rates. Catering to both, residential and commercial spaces, you can browse through our wide range of LED decorative area lighting collection. Using our products, you can beautifully illuminate general areas and pathways. What's better is that you do not need a standard utility power to make these functional. LED solar area lighting is a great solution if you are looking for sustainable lighting solutions.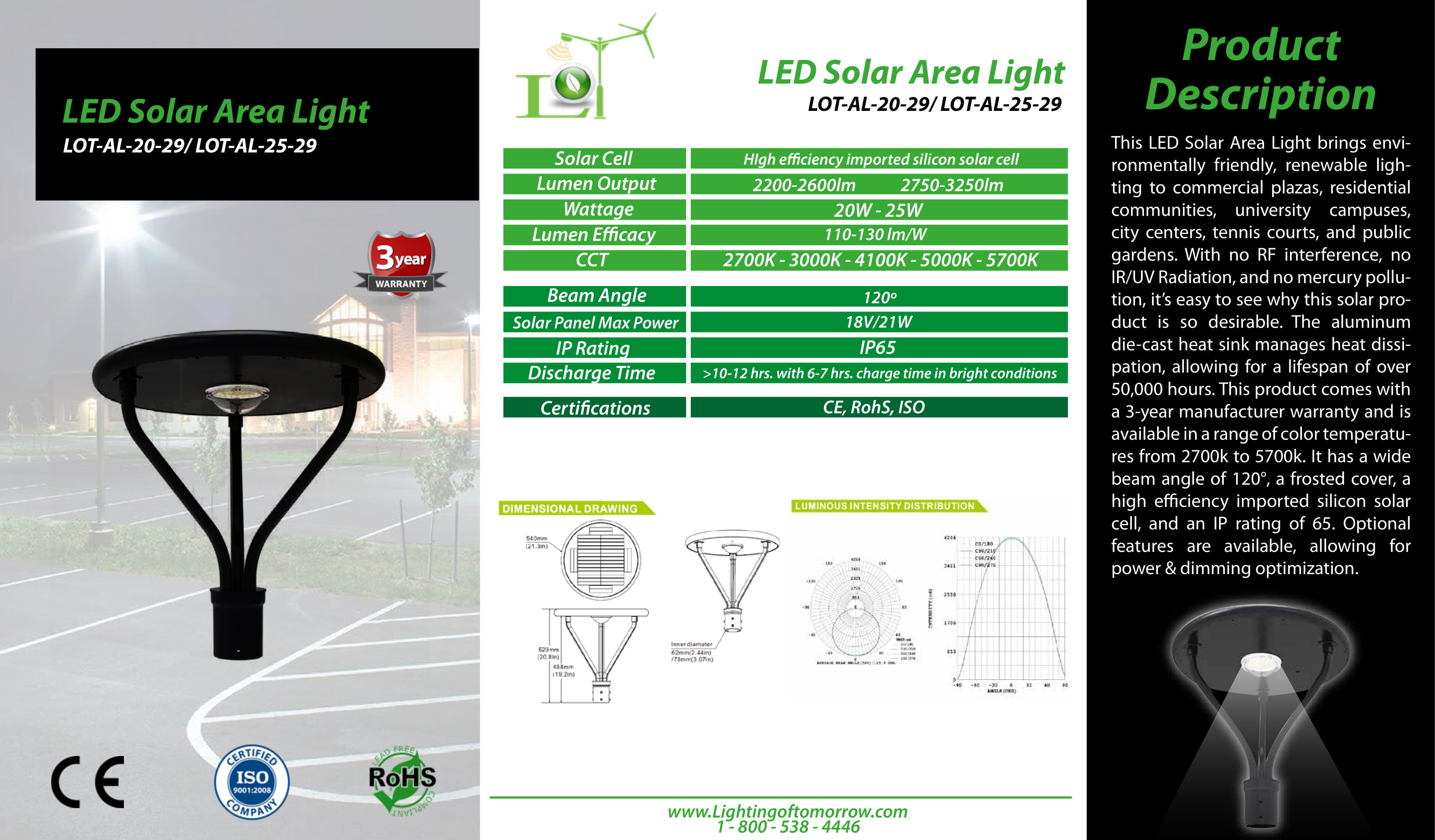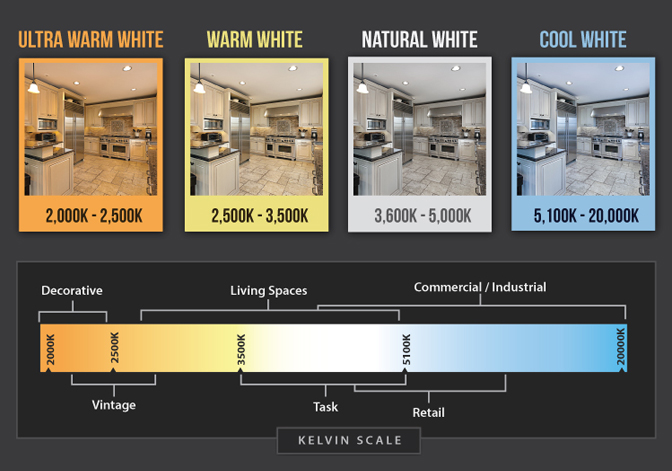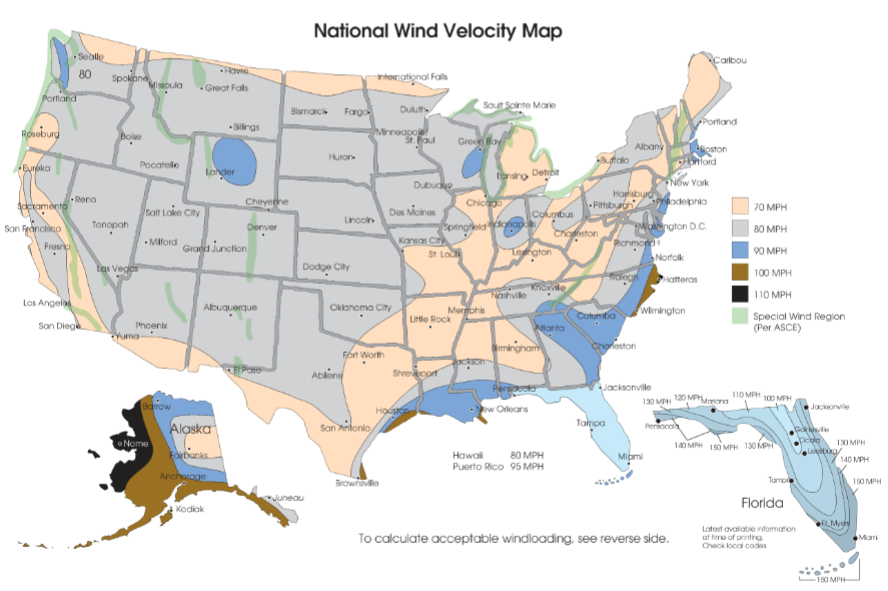 Lighting of Tomorrow aims to provide clients with the most competitive pricing available. We ask clients for more information about their projects to make sure they get the products and services they need at the best possible price.
1.Choose your Top Tier Products
We have a wide selection of products to suit your lighting needs.
LED Fixtures
LED Retrofit Lighting
Hurricane Rated Poles
Fixture Mounts
Lighting Accessories (Timers, Dimmers, & Photocells)
2.Request a Quote
Speak with one of our team members for more information about the specifics of your project. An L.o.T. Project Manager will work with you to determine your needs.
Our services include:
FREE inspection
Lighting design consultation
Photometric reports
ROI & savings reports
Lighting Maintenance
Lighting packages for new construction
Arial Drone Footage
City Permits
We strive to be your 1-stop shop for lighting!
3.Recieve your Custome Quote
Our quotes include the details of product prices, installation cost, warranties, project scope, taxes, city permit fees, and product ETA. We want you to be 100% certain that you have all the details.
After quote acceptance, we discuss payment options, notify you of your products' delivery, and schedule any necessary installations.
After the project is complete, our team will follow up with you to make sure that you are satisfied with your service.
Thanks for doing business with us & enjoy your energy savings!