Smart Lighting & Smart Savings
We make your lighting project easy!
We partnered with quality manufacturers and expert certified electricians to provide you a seamless lighting installation.
Our expert knowledge in LED technology and intelligent lighting design we can save your commercial property up to 80% of its eletricity usage.
We make LED lighting savings easy for anyone to obtain with our financing options.

We inspect your property at no cost to you.
Our experts determine the best lighting system based on your inspection.
You can get quoted in less than 24 hours.
Once a system is approved our certified electricians install your new lighting system.
A project manger will be your one point of contact through the entire installation leaving you stress-free.
Our expert electricians can repair and maintain both traditional and LED lighting alike.
We take care of your lighting so you don't have to.
Contact Us if you require any servicing.
You don't need whole new fixtures to enjoy LED energy savings.
Our retrofit kits can allow you upgrade your lighting at low-costs.
Our experts can recommend the perfect lighting system for your project.
L.o.T. can help you save energy and money.
We can conduct a full energy audit & provide energy usage recommendations to help you save!
Get started with a FREE consultation.
We offer many financing options to ensure all our clients can get the lighting system they need.
We even offer a $0 dollar down smart savings program, Contact Us to see if your project qualifies.
A switch to a LED lighting system can not only result in energy savings, but better visbility as well.
Lighting of Tomorrow was able to succesfully improve this parking lot's lighting visbility by 60%. This makes the property safer, and look more beautifully luminated at night.
This project reduced this property's electricty consumption by 85% percent. Electrcity savings is not only good for the planet but your wallet as well.
We offer a free initial inspection so you can see the benefits an efficient LED lighting system can have for your property.

Check out more Project Examples Here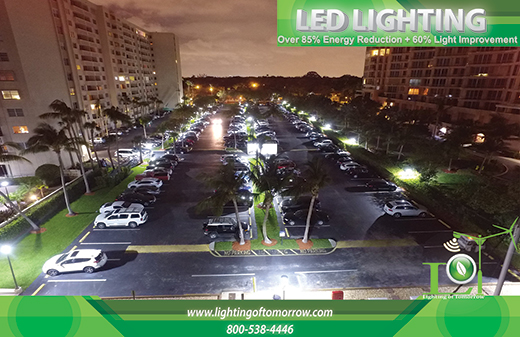 Our Latest Blogs
State-of-the-art lighting at $0 down! Lighting of Tomorrow will pay all costs involved in auditing,...

Read more